Daily Rates (Peak Season)
(Effective as of 2023)
May 26th – May 29th & June 16th – September 4th:
Primitive: $44.00
Water & Electric (Section 12): $55.00
Water & Electric Riverfront (Section 12): $60.00
Full Hook-Up: $60.00
Water and 30/50 Amp Electric: $57.00
Cabin: $95.00
Off-Season Rates
January 1st – May 7th: $25.00/night – electric only
May 8th – May 25th, May 30th – June 15th, September 5th – October 29th:
Open Primitive Sites: $35/night
All Other Sites: $40/night
Cabin: $85/night
October 30th – December 31st: $25.00 – electric only
Winter Seasonal: $900 plus metered electricity
Winter Seasonal with Septic: $1,000 plus metered electric
Base Rate cover 2 adults and 3 children (ages 5-17, under 5 free). Additional guests have the following fees:

Overnight Adult – $10.00
Overnight Child – $5.00
Day Visit Adult – $8.00
Day Visit Child – $3.00

Maximum 4 adults, and 8 total people on site. One RV/one tent, or two tent maximum per site.
Check-In/Out
Check-In Time: 2:00 PM
Check-Out Time: 12:00 PM
Early Check-In/ Late Check-Out Fee: $20.00
Early Check in – Must call the day prior to your arrival date to ensure that your site is not occupied. If your site is occupied, you may still come in and use the campground. However, you will not be able to set up your site until it has been vacated and cleaned. You may park in the store or pool parking lot until that time.
Late Check out – Must be prearranged with the office. If your site is scheduled to be occupied the day that you depart you may still stay and use the campground. You must, however, remove your things from the site by noon and park in the store or pool parking.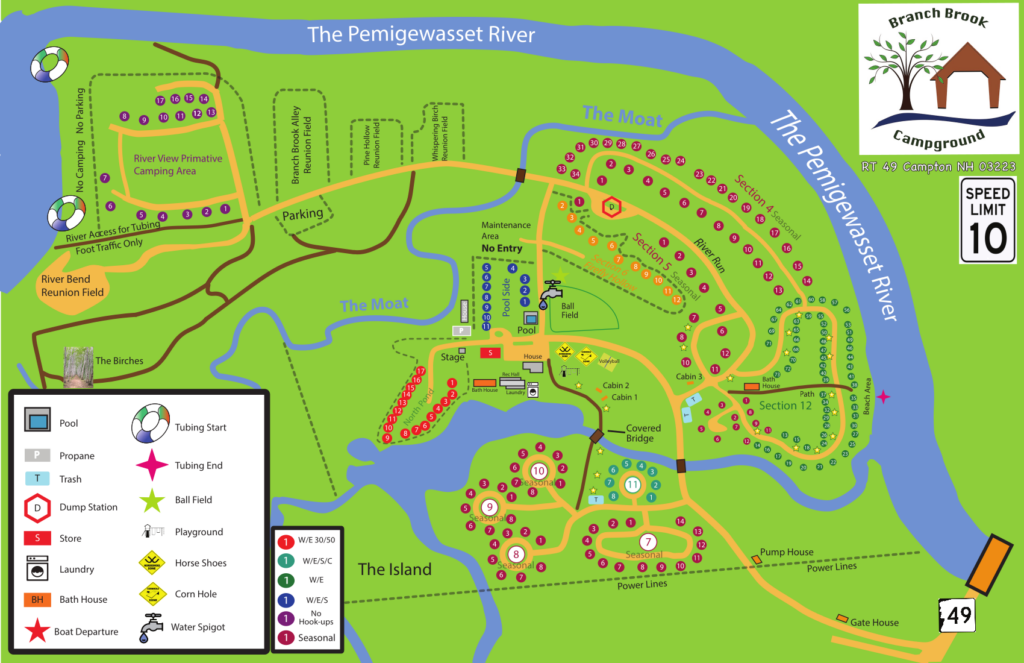 Reservation Policies
Two night minimum required for advanced reservations, we do welcome 1 night stays off the road. Holiday weekends are a 3 night minimum!
Deposit Policy – A deposit is required within 10 days of making a reservation. Full deposit is required on a reservation of three nights or less. A reservation of 4 nights or longer requires a 50% deposit. The remaining 50% is due 2 weeks prior to check-in. If you make a reservation and then decide not to keep it prior to making your deposit, we kindly ask that you still notify us of your change.
Cancellation Policy – If a reservation is cancelled 15 days (or more) prior to the date of arrival a refund will be given, minus a $10 cancellation fee. If the reservation is cancelled within the 14 days prior to arrival, a rain check will be given, minus a $10 cancellation fee, good until Dec. 31st of the following year. No refund will be given for cancellations made within 48 hours of a scheduled arrival, or for a "no show".